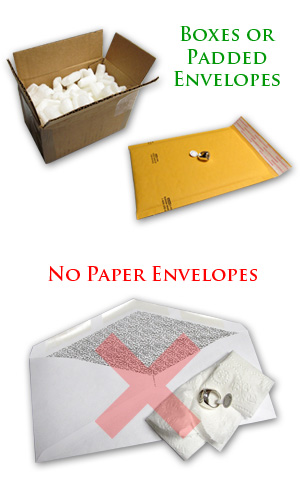 If the item is damaged or incorrect: please contact us via email so we can determine the quickest resolution.
For exchanges: Contact us via email to get started. We can do ring size exchanges or apply the refund amount towards another item you're interested in.
For general returns: Our products come with a 30 day money-back guarantee. Items should be returned in their original and resellable condition (no missing parts, no dents or scratches). Returns that do not meet this requirement may be returned back to you.
Refunds will be for the cost of the merchandise. Shipping charges are not refundable.
Enclose the item in a padded envelope or box; do not use a plain paper envelope as it will tear in the sorting machines resulting in the item being damaged or lost. Improperly packaged items may be rejected and returned to the sender.
Tracking and insurance is advised.
Our return address is:
Dryad Design
PO Box 486
Caledonia, MI 49316
USA
Enclose a copy of your packing slip or receipt. We will email you upon receipt of the package.